Thread Starter
Active SatelliteGuys Member
Here is the wooden satellite dish I built in 2013.
Ugly and inefficient but it gets the channels we want; the Puerto Rico Mux on 99W.
It is a 48x52in offset dish made of 3/8in plywood, 2x4s and aluminum flashing. 0.35 focal length, based on 108in prime focus dish.
I got the idea from the Vetrun website where they talk about making prime focus dishes. I decided I wanted to make an offset dish to avoid the shadow from the LNB because I knew it would not have the same power as a manufactured dish. Re-adjusting takes a while. I'm thinking of bolting the LNB support arms so they don't slide so I only need to change the elevation and azimuth. I'm currently using a Titanium PLL C-band LNB to get as much signal as I can.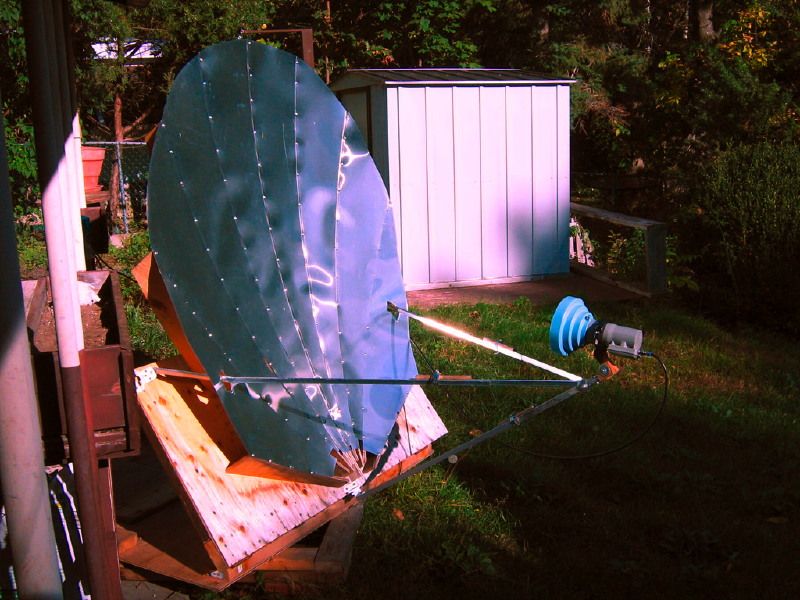 Here are various in-progress shots.
1. View from the other side (I've painted the aluminum tan because it melted the cover for the first C-Band LNB).
2. View of the ribs in the base.
3. Most of the panels and the LNB support added. The sides are nested V bars held with a dowel and hose clamp. The bottom is a square tube nested in a C shelf support, same clamping mechanism as the sides.
4. View of the ribs from the back. 2x4s supporting the back of the 2x4ft rib support. Hinged at the bottom.
5. Elevation support detail. I used 3/8in turnbuckles and 3/8in threaded rod (replaces the bottom eyebolt) for fine adjustments.
6. Close up of the panels going on.
7. Base for the satellite, 48x48in with a bolt in the center for azimuth control.
8. Close up detail of the LNB support sliding control.