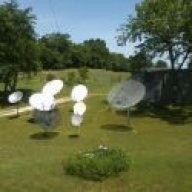 Joined:

Dec 25, 2007
Posts:

3,204
Likes Received:

161
Loading...

About

I am greater than the sum of my parts?

FTA Satellite, Electric & Acoustic Guitar, 2 & 4-wheeled Internal Combustion Vehicles & Machinery

Interact

Signature

C-Band:

12' Unimesh/AJAK 180/GeoSat C2***10' "Perfect 10" mesh/GeoSat C2*** 8.5' Birdview solid/110:1 BV H-H/GeoSat C2*** 7.5' Unimesh/CalAmp voltage-contro

lled LNBF

***...C-Band LOS from 58W-139W


Ku-Band:

3ABN .9m/Titanium PLL-1KS LNBF/SG2100***Fortec .9m/TrackerII LNBF/STAB HH90***

7.25' Birdview "Spoon"/TrackerII/

70:1 BV H-H***Prodelin 1.8m/GeoSat Bullet/AJAK 180 H-H***Paraclipse Hydro 1.5m Prime Focus/Linear Actuator/C120 LNBF...Ku-Band LOS from 30W-129W




Receivers:

Toshiba TRX-1820 Analog-->Openbox S9 HD***GeosatPro microHD


OTA Digital:

CM 4228/CM 7777 Preamp/Apex DT-250 for OTA Locals, Toshiba 46" Regza. 24" Vizio & Toshiba 19" LCDs
In Progress: (2) Birdview 8.5' (1 solid & 1 perf) w/Birdview H-H mounts, "Drake" 10' solid alum....*BVOC Asst. Cook & Bottlewasher*


Loading...