DVB-S2 on Raspberry Pi2 Tutorial
Initial Pi2 Setup
The first step is to get a good microSD card, tests here show that the Sandisk Ultra microSD HC Class 10 is a good one.
I have so far experienced a
100% failure rate
with the Samsung Evo cards.
One was DOA and the other died after only a few hours of use.
I have run 50+ hours of compiling on the same Sandisk card and it is still going strong.
Get a few extras too. They don't last forever. See last section for size and backup considerations.

Go here and download Win32DiskImager:
http://downloads.sourceforge.net/project/win32diskimager/Archive/Win32DiskImager-0.9.5-install.exe?r=http://sourceforge.net/projects/win32diskimager/&ts=1426604080&use_mirror=hivelocity
Go here and get the Raspian Debian Wheezy Image:
Raspbian
Debian Wheezy
Version: February 2015
Release date: 2015-02-16
http://downloads.raspberrypi.org/raspbian_latest
Go here and read how to get the image onto the SD card.
http://www.raspberrypi.org/documentation/installation/installing-images/README.md
Boot up the PI, you will get to this screen: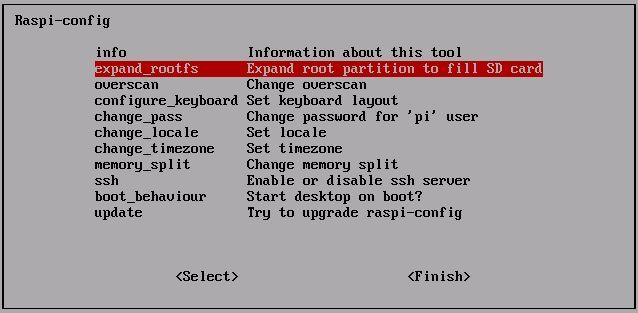 Expand the root file system to fill entire SD card.
Once we get ready to actually watch some shows, I will explain how to setup overscan and other video tweaks on the PI to get the best picture.
Configure your keyboard.
You can change the default pi user password here if you want
The default user on Raspbian is pi with the password raspberry.
Change locale.
Change timezone.
We will look at memory split later when we optimize the pi for video.
Make sure ssh is turned on.
Do not start the desktop on boot. If you really want the gui later, type startx at the command line.
Installation of USB DVB-S2 tuners will all be done at the command line and the gui is just extra overhead during compile.
So turn it off for now.
Run raspi-config to revisit this screen later on.
Go here to read about all the other options:
http://www.raspberrypi.org/documentation/configuration/raspi-config.md
Once you log in, type the following:
sudo passwd root
Set the root password. Logout then log back in as root. You will save yourself from having to type su or sudo all the time. This is not a Fortune 500 highly sensitive and secure type system. Logging in as root will save time during setup.
Go here and download the putty ssh client to a PC or laptop:
http://the.earth.li/~sgtatham/putty/latest/x86/putty.exe
Use putty to remote into your Pi. Doing it this way allows to copy and paste the statements given in tutorials.
You paste into putty by just right clicking.
To copy from putty you simply select the text by holding down the left mouse button and highlighting.
Another handy feature with putty is logging.
Right click on the top border, click on change settings.
Under the session category, click logging.
Under session logging, select all session logging, browse to a suitable location.
Then click apply.
You will now have a record of everything you typed and everything the PI spit back out at you. /username/.bash_history only shows what you typed in not the results.This feature is handy to go back and review your work if you made a mistake or to log compiling to be able to see what has left the viewing area. To stop logging, go back in and select none under session logging. The logging will also stop automatically when you exit the session.
Back Up Your SD Card Often
Once you finish initial setup, use Win32DiskImager to "read" an image of your sd card to another computer. Do this every time you complete a major step. Use a new rev number or name every time so you don't overwrite the older ones. You will have a complete archive of all your images if you need to go back to some point and time and start fresh for for various reasons. I am currently using 16B sd cards, this may be overkill as it is no where near filled and it takes a long time to read and write an image. Also storage space for images on your PC will grow fast. Consider using an 8GB card. You can expand it later if needed. It may be more difficult to impossible to shrink 16GB image, I have not tried it.
Right-click on the Win32DiskImager icon, and select
Run as administrator
.
Select a location on your computer and name for the backup image.
Select the drive letter of the SD card in the device box.
Click Read and wait for the Image to complete.
Exit the imager and eject the SD card.
Thanks to KE4EST for ideas on this.
Last edited: