pghdish
Thread Starter
New Member
Hello all, first post here. I looked for topic discussion about this upgrade and could not find it.
I currently have a failing 722 unit with original western arc TurboHD dpp, so I decided to upgrade to hopper 3. I bought a dph lnbf (less antenna), hybrid solo hub, hopper 3 and one Joey 4k.
Can anyone tell me if it's possible to remove the old dpp lnbf and replace it with a hopper 3 style dph lnbf? I have seen posts about people swapping lnbf's on 1000.2's, but I have not been able to figure out whether my particular 722-era TurboHD antenna reflector and arm is compatible
Upon trying to swap the lnbf, I noticed that the old dpp lnbf has a plastic "key hole" which is missing from the dph lnbf. This intentional design change makes it impossible to mount the new lnbf. I am now thinking that 1000.2 reflector and arm assemblies differ over the years.
Do I need a whole new outdoor dish antenna assembly, or what?
I was hoping to avoid replacing the whole antenna assembly thinking I could avoid realignment.
Here's pics of old lnbf vs new and my original outdoor antenna. Thanks for any ideas!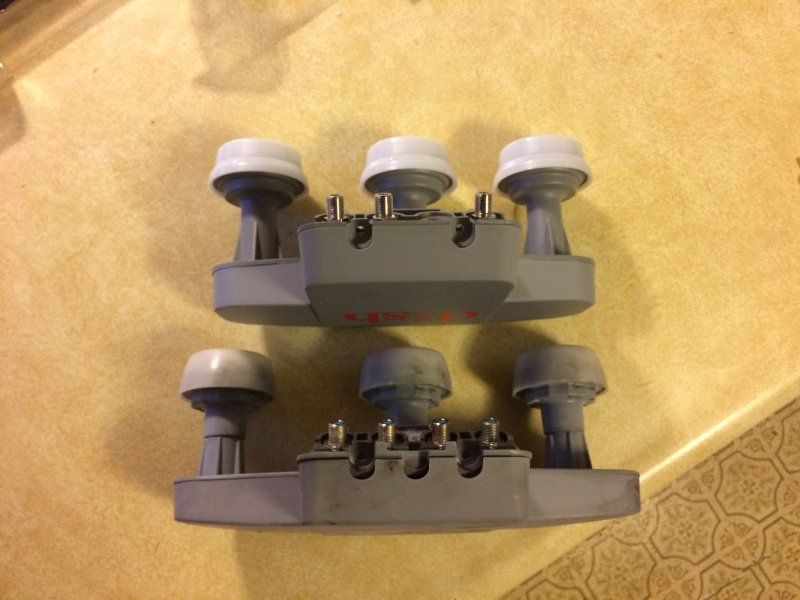 Last edited: