Silicone Dielectric, Yes? No? Absolutely Not?
I just finished updating my wiring, during the process I had an exposed end, while attached to a hopper w/sling at the other end. In about 24 hours, with it contacting slightly damp area, at basement cinder block wall, and saw I had a corroded center lead.
I replaced it with a new PPC Belkin Outdoor compression connector on freshly cut RG6 about 4 inches from corroded end.
My current set-up (not yet cable tacked) is indoors, so no "weathered" exposure any more. Should I use Silicone Dielectric Grease?
Is there reason to, reason not to?
All of my own inside wiring is made with the PPC Belkin outdoor connectors, the only un-changed connectors at this point are on the cable too/from the dish, and 1 leg to my basement hopper which also services a single node, with a joey at the end.
(I did search the forums found 14 posts from 2008 ~ 2011, mostly in FTA threads)
(red box was where badly made cables had too short of a lead)
There's the cinder block wall ... one cable, that was to my 3rd hopper, wasn't attached while I was trouble shooting, it was in direct contact with the cinder block for about 24 hours. It was freshly made, and in 24 hrs the head was corroded.
and *no, it was not "in" water... the best capture I could manage quickly, the center is pitted, and had an arc corroded lead with electrically attracted (?) deposited gunk, rust-like particles. You can see the inside threads of the head with discolored areas, so obviously the 12v / 19v ? power from the 3rd hopper was making its presence felt.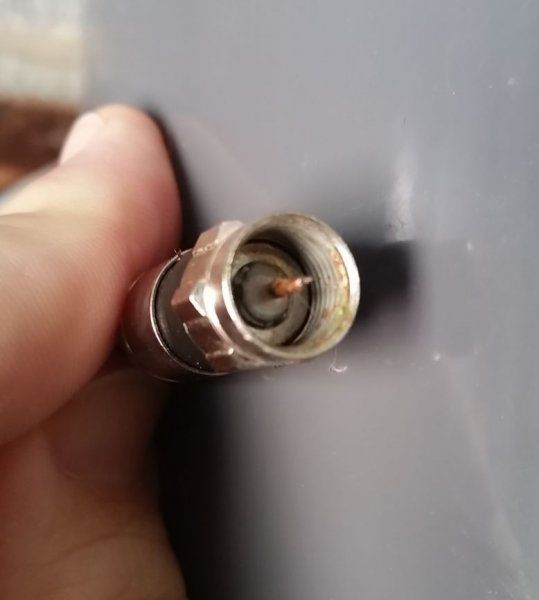 THANK YOU !!