SatelliteGuys Pro
Original poster
Pub Member / Supporter
I am having problems playing programs located on my opposite Hopper3. This just started after my Family Room Hopper3 was replaced. When I bring up the sources menu the other Hopper3 shows up as a source. When I select the other Hopper3 I can see the programs recorded on it. On the Living Room Hopper3 some programs on the Family Room Hopper3 do not play while others do play. On the Family Room Hopper3 none of the programs on my Living Room Hopper3 play. When I hit watch a screen comes up with the choices of Delete, DVR, or Live TV.
Both hoppers are on software version U503. Before they were at U502. The Hopper3 in the Family Room was replaced since it was in a constant reboot mode.
When looking at the Moca Details under the Whole Home screen the Living Room Hopper shows question marks for the Hopper3 Family Room under columns 1 and 2.
When I highlight the question mark the up arrow has a question mark and everything is 0. Thus it looks like the upload is not working.
The Family Room Hopper3 shows everything as green check marks and thus both upload and download are both working. The Dish installer replaced the Duo node to see if that was causing the problem but that had no effect. I just noticed the problems playing content on the opposite Hopper3 tonight. I have been busy and had not tried playing content on the opposite hopper until tonight. In the past it worked fine. Can someone with 2 Hopper3 receivers verify that they are not having problems playing content on their opposite Hopper3 under software U503.
I took pictures showing the Moca details screen on my Living Room Hopper3. The Family Room Hopper3 shows all green check marks and thus does not appear to have any problems.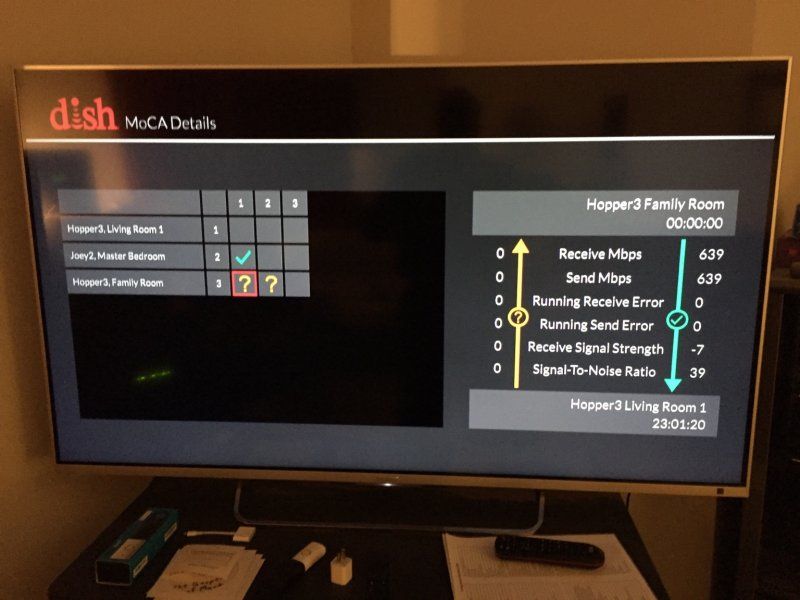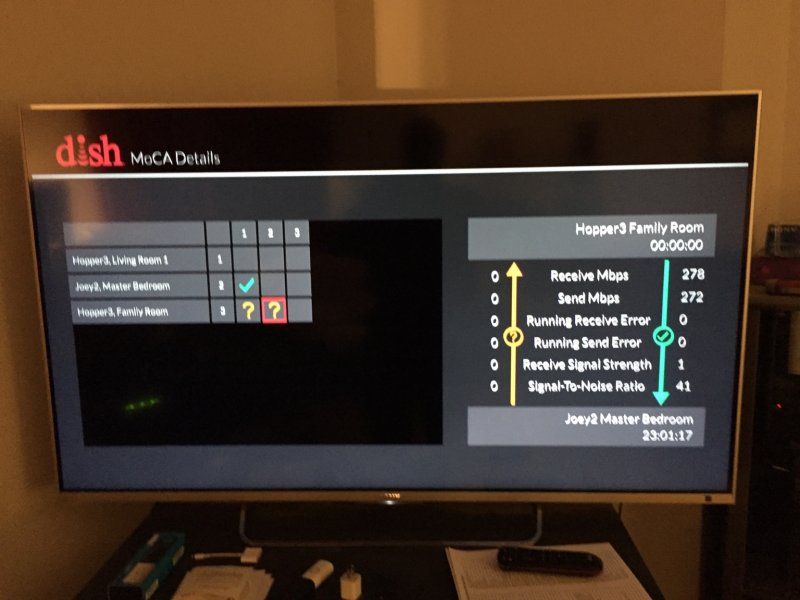 By the way, they moved my Western Arc Dish to a Room Mount. I now have strong signals on 110, 119, and 129. As a result, we did not hook up 61.5 to the DPH42 switch.
Last edited: