Ilya
Thread Starter
XXI Century Explorer
Staff member
HERE TO HELP YOU!
Lifetime Supporter
Feb 16, 2004
24,282
9,966
This has been discussed in a number of threads, but there is still a lot of confusion, so I think we need a separate "How-To" sticky thread.
As you may know, Dish is delivering some 4K HDR Olympic footage provided by NBC (on a 1-day delay) on ch. 540 (also mapped as ch. 147-05).
So, here is what you need in order to be able to watch the 4K HDR channel 540 (147-05) at your home:
HDR-compatible TV set

The TV set must be connected to Hopper 3 (not just 4K Joey)

High speed HDMI cable (preferably Premium Certified)

Dish AT120 subscription or higher with a dish pointed to 72.7 or 129 satellite location
How do I know if my TV set is HDR-compatible?
Check the manual! Or google your TV model number with the word "HDR". Just because your TV set is 4K doesn't automatically mean it is HDR-compatible. Some TVs got the HDR feature as a software update, so you may have to install the latest updates. Also, not every HDMI port might be HDR-compatible. Check which HDMI ports on your TV set can handle 10-bit 4K HDR (HDR10) at 60 fps.
Can I watch 4K HDR through a 4K Joey?
Currently 4K Joey is not officially supported. If your TV set is connected to a 4K Joey you likely will not even see the ch. 540 listed in your guide during the Winter Olympics or any HDR recordings on your DVR made from the Hopper. Dish requires you to connect your TV set to the Hopper.
Update: There is a trick (posted at
AVSForum
) that allows you to watch the 4K HDR channel on the 4K Joey while it's being recorded from your Hopper. You can join the recording in progress from your 4K Joey by selecting StartOver in TV Activity, Viewing options.
Update 2: And here is a trick to make DVR recordings from channel 540 viewable from 4K Joey. Just save your recordings to an external hard drive!
My HDMI cable works fine with 4K, can I use it for 4K HDR?
HDR uses a much higher bandwidth over HDMI than the normal non-HDR 4K. So some HDMI cables might experience problems with HDR: black screens, jumpy image, etc. You need a high-speed HDMI cable, capable of handling the HDR bandwidth (up to 18 Gbps). The HDMI alliance has come out with a special certification to ensure compatibility. Look for the Premium Certified sticker with a hologram. Of course, just because your HDMI cable is not Premium Certified doesn't necessarily mean it won't work. It's just not guaranteed. The shorter the cable, the less likely you are to run into problems.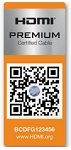 I am connecting through an A/V receiver. Will that work with 4K HDR?
Even if your receiver can pass through 4K video and is HDCP 2.2 compliant, it doesn't necessarily mean it can pass through the higher bandwidth required for HDR. If you are experiencing any problems, bypass your receiver and connect your TV set to the Hopper directly.
What the heck is HDR?
HDR stands for High Dynamic Range. Basically each of three color components is coded with 10 bits instead of the usual 8. This results in much more vibrant colors, deeper black levels and much brighter white colors. Looks amazing!
Last edited: