Now that the Hopper 3 has seemingly put the OTA Reception glitches to rest, I notice that the OTA Guide Problems for my DMA. I hope DIRT sees this and can pass it up the chain to the necessary parties.
Ever since our local Fox affiliate, WSJV (28.x) transferred their FOX Affiliate status to WSBT (22.x) a few months back, our Over-the-Air EPG data via satellite has been scrambled. Currently, WSBT is broadcasting the CBS 1080i feed on 22.1 and the Fox 720p feed on 22.2, dropping 22.3 (24 hr. StormTracker22) to have enough bandwidth to make it work. Over at WSJV, 28.1 and 28.2 are now duplicate H&I feeds.
My Sony Bravia uses Gracenote to provide OTA Guide information. It shows the OTA channels and the upcoming programming correctly: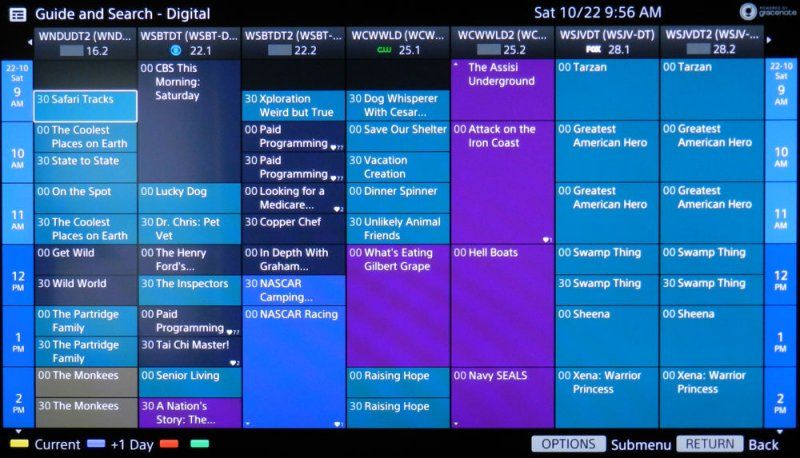 Switching over to my Hopper 3/4K Joey combo, I see this:
Dish has successfully mapped the Fox programming on 022-02 over to the familiar 028-00, renaming it WSBT2, but it then maps that to the OTA channel 028-01. Right now 028-01 is showing "Greatest American Hero" but the Info button tells me this is a Shark Rocket infomercial.
Like I said, I never noticed this until the new Hopper U331 update and I can use the OTA module. Thanks to
Timr
who first brought this to my attention. Now that I can see it, I can see how annoying this will be until Dish gets the Guide matched up.