Thread Starter
SatelliteGuys Pro
Lifetime Supporter
I'm out of space on my 8-way DiSEqC switch. To avoid complicating my system, I went searching for a bigger switch and ran across this on EBay. Not being familiar with the brand, and the fact it's made in the EU, I'd like to run it up the flagpole and see what you guys think.
When looking at the power consumption, I'm a little concerned since my receiver's power supply is rated at 400mA Max. I don't want to create a problem by overloading my receiver's power supply, and the fact I'm not up on cascading switches. I figured it would simplify my installation if this one will work.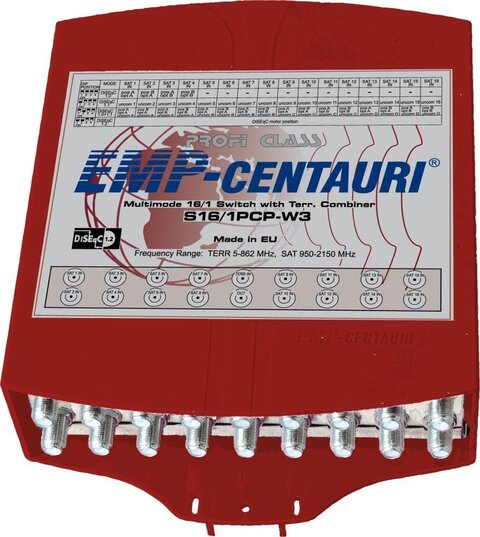 About $52.00 with shipping.
This product allows connection of 16LNBs to one satellite receiver !!

17in/1out DiSEqC 1.0&1.1&1.2 switch for up to 16 satellite positions and 1 subscriber, equipped with combiner for terrestrial band. It is designed for switching between 9 to 16 LNBs. Control mode is configured using built-in DIP switch, see Instruction manual for details.
The product allows joining terrestrial band to common down lead.
HDTV and UHDTV compatible
Specifications:

Frequency range
LNB inputs
950-2300 MHz
Terr. input
5-862 MHz
Output
5-2300 MHz
Control
DiSEqC 1.0, 1.1, 1.2 commands
Insertion loss
Sat.
5 dB avg
Terr.
2 dB avg
Sat. inputs isolation
25 dB min
Power consumption
From receiver
80 mA (18 V) + LNB
DC current pass
400 mA max
Dimensions (w,d,h)
17 x 20 x 7 cm
Temperature range
-30 ~ +70 °C