Welcome HOME to SatelliteGuys!
Original poster
Staff member
HERE TO HELP YOU!
Cutting Edge
Sep 7, 2003
102,275
24,750
Everytime I go to one of Dish Networks shows where they showcase new technology I always award one product or idea as the "SatelliteGuys.US Best In Show" Award Winner.
Last September the "SatelliteGuys.US Best In Show" winner was the Dish 522 DVR, the Dish 522 was selected because of its new interface, becauseof its agile stereo modulator and becauuse of the fact that you could serve 2 rooms from one receiver.
While the software has taken awhile to make the 522 into the world class receiver it really is, I am still very proud to have picked it as last years "SatelliteGuys.US Best in Show" winner.
This year at Team Summit we saw a lot of great thing, and for the first time ever we saw a lot of working concepts. These concepts may or may not ever see the light of day, while some concepts such as Name Based Timers will see the light of day other ideas such as "The Best of Dish" deserve to die a quick death.
As the founder of SatelliteGuys.US I am proud to introduce the winner of this years "SatelliteGuys.US Best in Show" award winner, the "MP3 & JEPG Feature"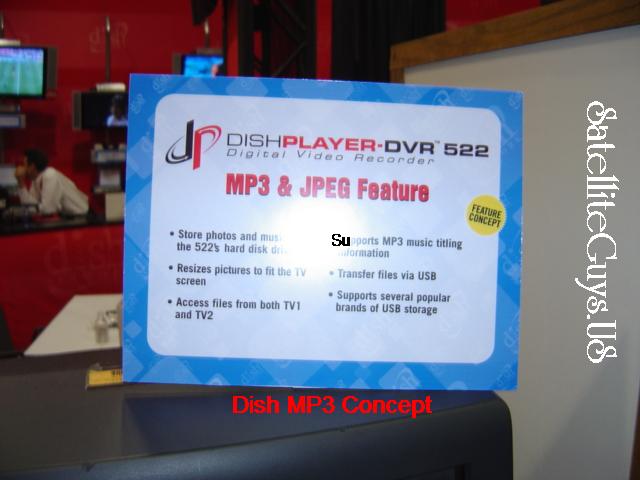 I enjoyed the MP3 & JPEG Feature concept which was shown at team summit not just because you can store photos and music files on your DVR's hard drive, but because of the fact that this feature can be added to equipment you already own.
I don't like calling this exciting upgrade the "MP3 & JPEG Feature" so from now on I will refer to this upgrade as "The Dish Multimedia Center"
While demoed on a Dish 522 Receiver the Dish Multimedia Center could work on any Dish DVR which has a USB port. To transfer files to the Dish Multimedia Center you need a Portable USB storage device such as the Lexar Jumpdrive (shown below)
These cards can be purchased anywhere. I picked up a 128 MB Lexar unit a few weeks ago at WalMat for $29. They work like external hard drive, you just plug them into your computer, copy your MP3 and Picture files to them and then you can unplug the portable drive from your computer, and now you have your files stored on your keychain.
When the Dish Multimedia Center software is released you will notice a few new items on your main menu. (as shown below)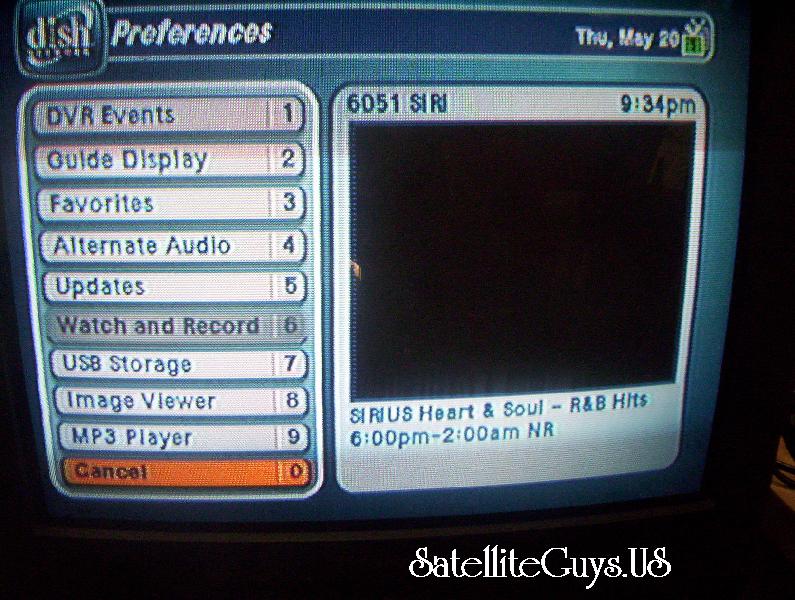 ​
These new features include USB Storage (which lets you copy files from your USB storage device), Image Viewer (which lets you view images stores on your USB sotrage device or from the DVR's hard drive) and a MP3 player which again will play off the USB storage device or the DVR hard drive.​
​
If you go to USB storage, without a USB storage device inserted you will get a blank screen as shown below.​
​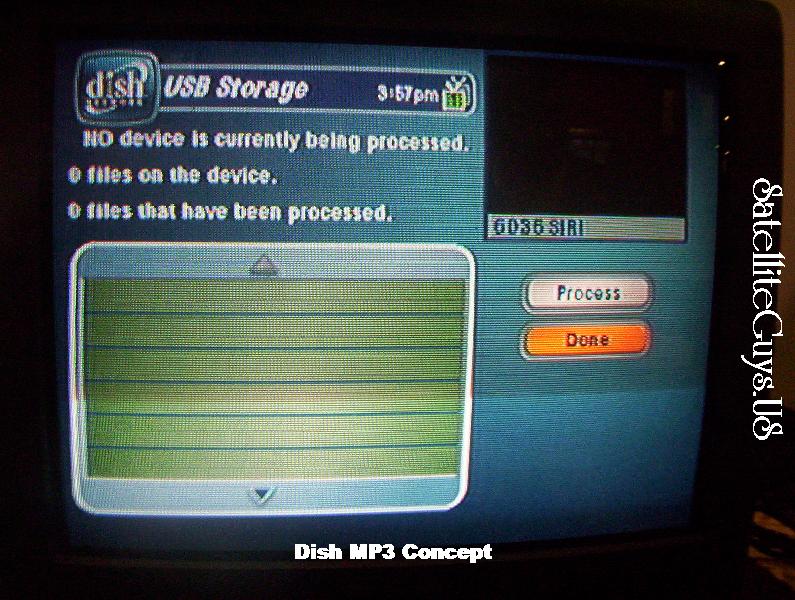 ​
When you insert a USB storage device the DVR will automaticly give you a list of compatable files found on that storage device. (It will accept MP3 audio files and most picture formats except for GIF picture files) When it is inserted a screen will pop up which looks like the one below.​
​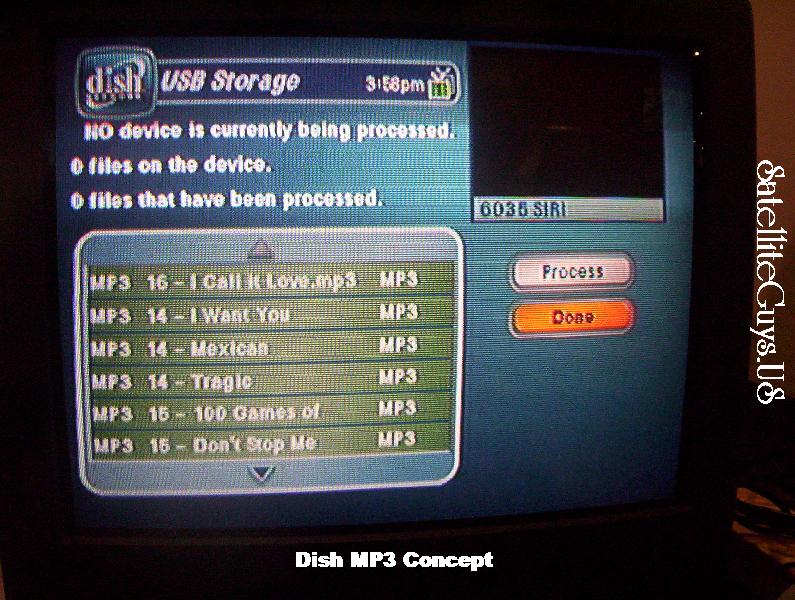 ​
You can now select the songs you want to copy to the DVR hard drive and click process, this will copy the files to the DVR.​
​
Once copied you can make your own playlists, and you can also have your own slide show while the music is playing! The slide show will change slides at an interval which you select. You can make many playlists and choose the list your in to mood for.​
​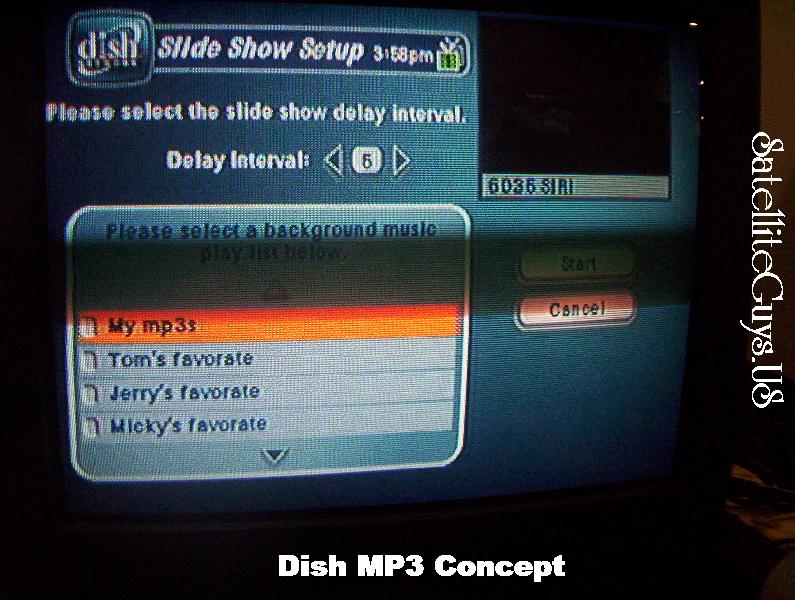 ​
When pictures are displayed they are resized to fit your TV. For looking at high quality photos on a standard NTSC Television, I was impressed how good the demo pictures looked.​
​
When you are in a playlist you can select specific songs or click play them all.​
​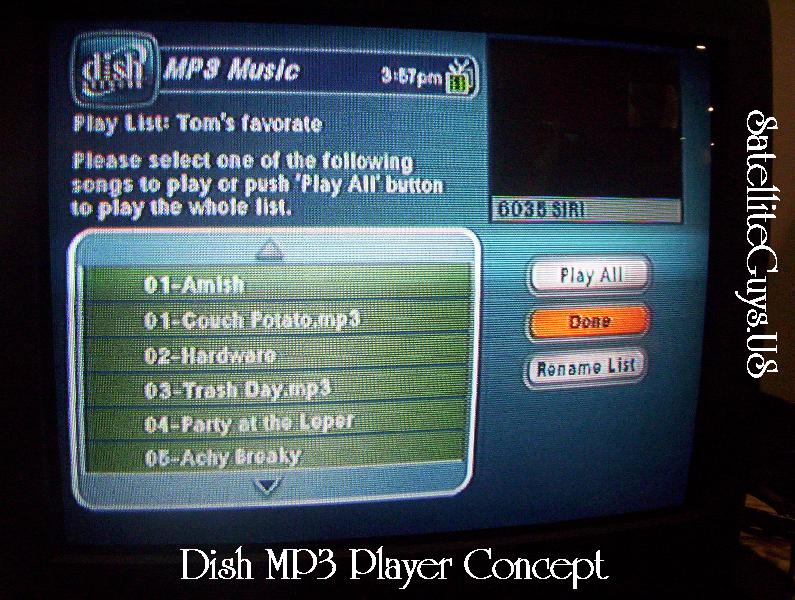 ​
The audio sounds great, of course it works best if you have your DVR plugged into your stereo system, at the show they were demoing the DishComm powerline audio sending unit with this feature. With Dishcomm you can listen to your MP3 (or Sirius from Dish) in any room in your house, the audio is sent over the power lines in your house.​
​
While currently this feature is planned for the 522, they hope to bring it to other DVR models as well such as the 508 and 510. I REALLY hope this bring this feature to the 921 and 942 as well. Imagine having a LCD or plazma scarrn on your wall, and while you are not watching TV your favorite photos are being displayed on the HDTV in full resolution! When not in use your HDTV could be like a big picture frame.
​
​
Let's hope this product goes from CONCEPT to release! And imagine if you would that this idea could be expanded upon, if the Multimedia center had support for Windows Media, you could actually transfer and display family movies and more to the Dish DVR and be able to watch them whenever you want from your EZ Chair!​
​
So there you have it, this years "SatelliteGuys Best In Show" award winner the Dish Multimedia Center Upgrade!​