Thread Starter
Active SatelliteGuys Member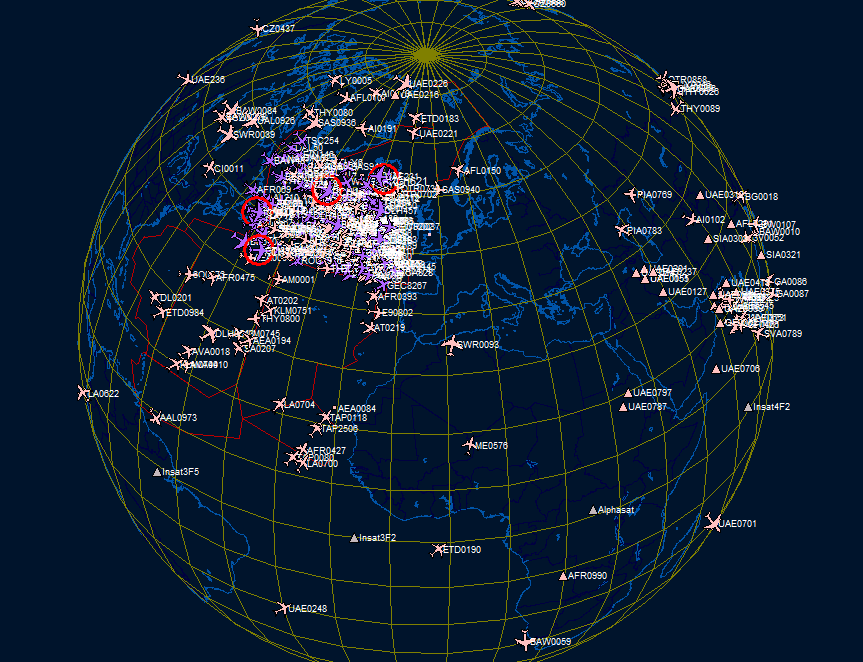 Following the disappearance of MH370 back in 2014 Inmarsat offered to provide free 15 minute check ins for commercial Oceanic flights via their ADS system.
This was to encourage operators to log in with their location on a more frequent basis.
The company conducted tests last year which were deemed successful in getting operators to speed up their
installation of Sat Comm equipment.
As can be seen from the above time lapse animation from PlanePlotter , our Oceans are teeming with
a/c as they ply back and forth across the Atlantic , Indian and Pacific Oceans.
PlanePlotter has been around for well over ten years.It was the first a/c tracking system for enthusiasts and started out as a network to plot ACARS. It seems fitting that now , following years of development and the introduction of many ground breaking techniques for a/c enthusiasts , it has come full circle to encompass Satellite ACARS as provided by ADS.
Back in the early noughties I'm sure many of the forum members will recall monitoring Inmarsat L band analogue telephony.My main interest was picking up the NASA downrange comms on launch days. It could be a little frustrating as only one side of the comms could be heard. However if you hooked up your C band dish to the same satellite , then you could monitor the other side via the C band downlink.
The same principle applies to Aero H/H+
A/c contact ground stations via L band .... the signal is fired up to the satellite and then converted to C band for the earth bound downlink.
The data contains house keeping info , plus those all important position reports.
Those reports , once processed can be plotted on the map.
Late last year , a chap called Jonti created a piece of software [JAERO ] which processed the
data bursts from Inmarsat . Initially this was just for L band , but once we realised that an 8metre dish was not required for the C band work , he set about processing the C band data [1520-1545 MHz IF ]
The technique is relatively simple and should strike a chord with satellite enthusiasts.
Using a stable C Band lnb [ we recommend the Titanium PLL C band devices] the satellite is located and the signals fed into a standard sat receiver which has loopthrough. A voltage inserter can be used instead of the receiver if you prefer. From the receiver/inserter , it is fed to a basic RTL type dongle.
The dongle plugs into your PC
SDR # software then processes the data and passes it via soundcard or virtual cable to JAERO.
JAERO turns the data burts into ACARS format...the latter is then sent to PlanePlotter which takes the positional information and plots the a/c on the map.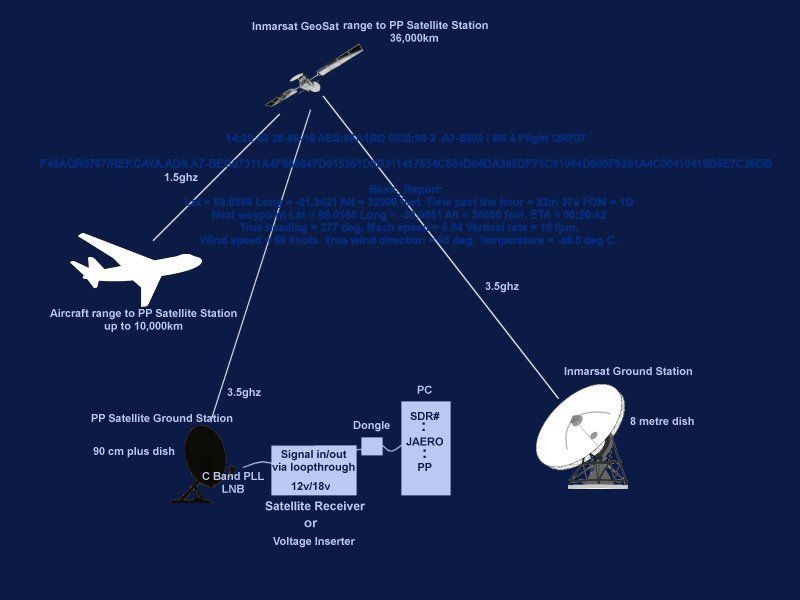 Tests have shown that dishes as small as 90cm can receive the data , but ideally 1.2m or more should be used.
So apart from the dish, receiver and lnb , most of which many of us already have , all that's left is the dongle , just a few dollars , and the software. Both SDR# and JAERO are free.
If you don't already have PlanePlotter , then for anyone who is prepared to commit to a 24/7 Inmarsat feed into the PP network , that too could be free.
This is a fascinating aspect of our hobby and as dish users ,we have a head start !
If interested , by all means PM me for any additional info.
Best wishes
John