Venom216
Thread Starter
Member
Original poster
Hi All,
In the Ocala FL. area. I was into BUDs back in the Late 80's and Early 90's.. I originally had 12' Dish where I lived in South Florida.
I decided to start tinkering around again. I found a Paraclipse 12' Mesh available about 60 miles from me. It must be a later model that I had never seen. Here are some pics before the disassembly. It is a very small hole mesh with a 4 pole mount for the LNB's. It has C & KU LNB's on it. Can anyone tell me the model and year of this BUD?
I went and disassembled it yesterday and brought it home. Total dismantle time with a friend was about 6 hours. Overall it was in great condition.
All the stainless steel hardware made it easy to take apart.
There are a few small Bends/Punctures on a few of the larger Mesh Panels and of course I will be needing new clips.
I have been reading lots here and it seems 17 Gauge Galvanized wire is suggested for making your own clips. As far as the mesh panels, I should be able to bend the broken areas back together so there would just be a small line where the mesh had split. What kind of restoration should I be doing to bring this dish back to top working performance besides a good cleaning to remove the green fungus? Thanks for any help.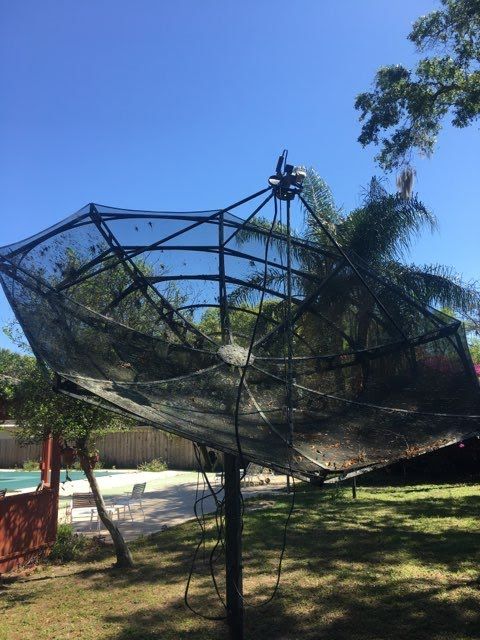 Reactions:
AZ., k.r., Martyn and 2 others