Thread Starter
SatelliteGuys Pro
This is a test and review of the GEOSATpro 90cm dish from SatelliteAV.

The dish arrived via Fedex very well packaged in a heavy cardboard box with custom fitted cardboard inserts. Sturdy, and all recyclable materials.
The instructions are detailed and complete, taking up both sides of a standard sheet of paper. They were written by someone fluent in the English language, and knowledgable about the product and FTA satellite TV reception.
A J-pole mount with two support arms and a clamp-on collar are included. The support arms must be used with the J-pole mount to avoid disappointment. This is a large and somewhat heavy dish. The J-pole base bracket by itself will not hold it rigidly in alignment for long term service.
The mount may be assembled in three different configurations giving elevation from 0- 20, 20- 57, and 50- 90 degrees elevation. The 20- 57 degree configuration is what I used. The elevation degree scale read about 1 degree off the calculated true elevation for me.
All parts are sturdy and well finished, with smooth edges and a dark charcoal grey/black color. The fasteners are plated to resist corrosion, and are all SAE sizes. The entire dish can be assembled with a 7/16 wrench and a #2 Phillips screwdriver.
The effective aperture of the dish itself measures 91cm tall and 81cm wide. It incorporates a unique rolled edge that gives it incredible stiffness.
A circular bubble level insert is included to help level/plumb the mounting pole. It is very helpful and spot-on accurate when checked against a small magnetic machinist's level placed on the mount pole.
You can read the detailed technical specs and get the latest price at
the SatelliteAV website.
I like this dish a lot, and recommend it highly.
The
GEOSAT SL2 bullet Ku LNBF
has a smaller built-in scalar than most other Ku LNBFs. This allows for mounting side by side down to 4 degree spacing between satellites. Performance does not suffer very much from the smaller scalar, and the signal level was way more than enough on all transponders tested with the 90cm dish.
Comparing it to the current best performer that I have, the JSC321s, I got the following Signal Quality readings:
Receiver Coolsat 6000 with latest true FTA firmware installed. Six feet of RG-6. No switches.
Dish: GEOSATpro 90cm
Satellite: G19 @ 97w
Weather: Light clouds.
Temperature 55 degrees F.
11836V Geosat - 73 JSC321 - 75
11873H Geosat - 72 JSC321 - 75
12152H Geosat - 72 JSC321 - 75
12113V Geosat - 70 JSC321 - 72
Results totaled and averaged:
Geosat - 71.75 JSC321 - 74.25
The GEOSATpro is a high quality LNBF with good signal quality output. It is very useful if you need to use multiple LNBFs on one dish to get closely spaced satellites.
SatelliteAV sells a neat 4-degree twin LNBF mount specifically for it and their 90cm dish.
However, the JSC321 does beat it by a few signal quality points when tested.
It would be interesting to see how the GEOSAT bullet LNBF would do with a standard size scalar.
I was unable to post this to the review section. Moderators please move it there if desired.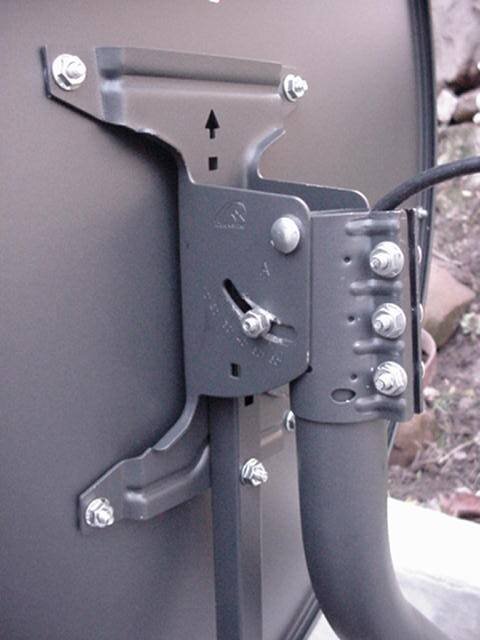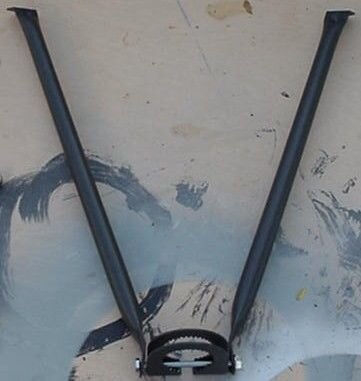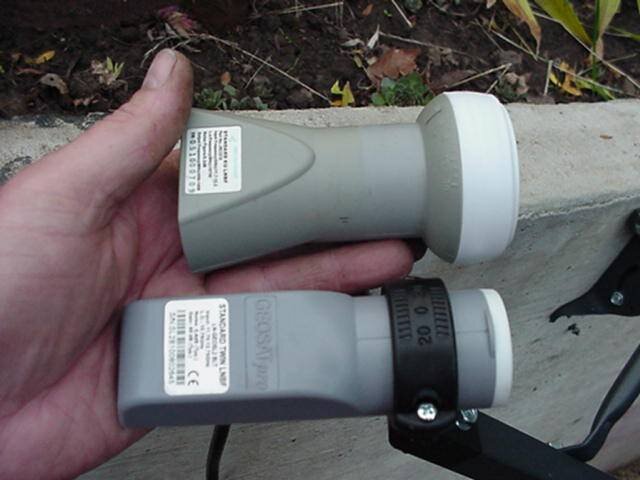 Last edited: