SatelliteGuys Pro
Lifetime Supporter
1/2" EMT from Lowes or Home Depot are perfect for feed legs. You can flatten one end, and bend it to the angle needed to bolt it to the face of the dish. Or better yet, bolt to the side edge, if there's a large enough edge lip.
Here's a brainstorm I had the other evening. I have been looking at this dish for some time wondering what I could receive off it. After installing the HughesNet dish with success, I decided to hook my meter to it and see if I could get a signal. With it being considerably wider than it is tall, I figured I might be confined to horizontal channels only.
Using the original LNB and feed, I hooked up the meter and started playing. With the dish mounted on a corner pole of my chain link fence, I was limited to how far I could swing the dish left or right. Right away, I hit Galaxy C3 and found the CCTV and the ABC channels. Moving the dish further east, I landed on Galaxy 17 @ 91W. (Couldn't go any further east as the mount was against the top rail on my fence.)
After tuning it as much as possible, I ended up with a 91/45 signal level, with a slight variation on vertical channels. Then it started raining and the play session was over. I locked it down and left it. To my surprise, the picture never broke up or dropped out with it pouring down the rain. Here is the dish I used.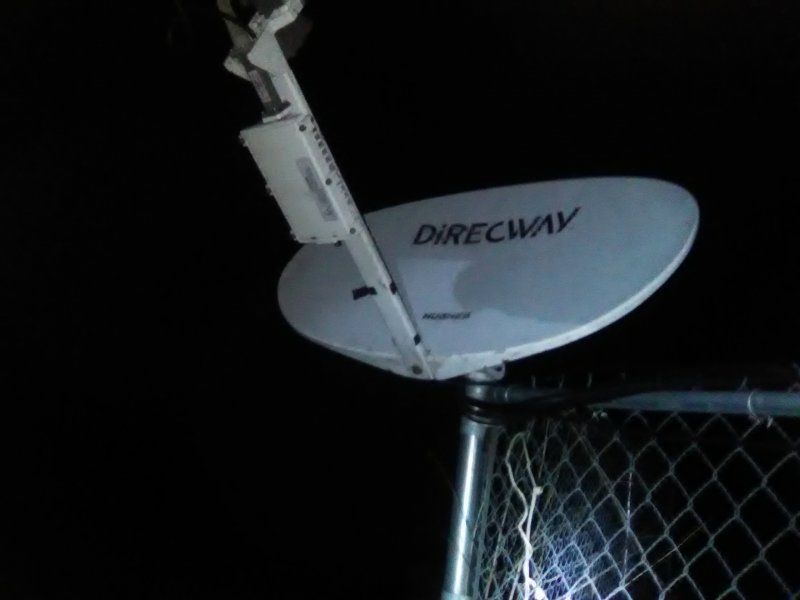 I have another of these dishes lying around and if the weather's fit, I may stick it on another fence post and aim it at Galaxy 19 Ku to see how well it works on it. I figured what the heck, it's there and not that big of a deal to hook up and see how well it works. I thought I'd see if you ever used one of these for Ku Band.