Thread Starter
Welcome HOME to SatelliteGuys!
Staff member
HERE TO HELP YOU!
Sep 7, 2003
98,439
15,358
I was thinking Brians new product was going to be a new LNB... guess I was wrong.
It appears to be a new 4K Receiver and features "Multi stream" whatever that is.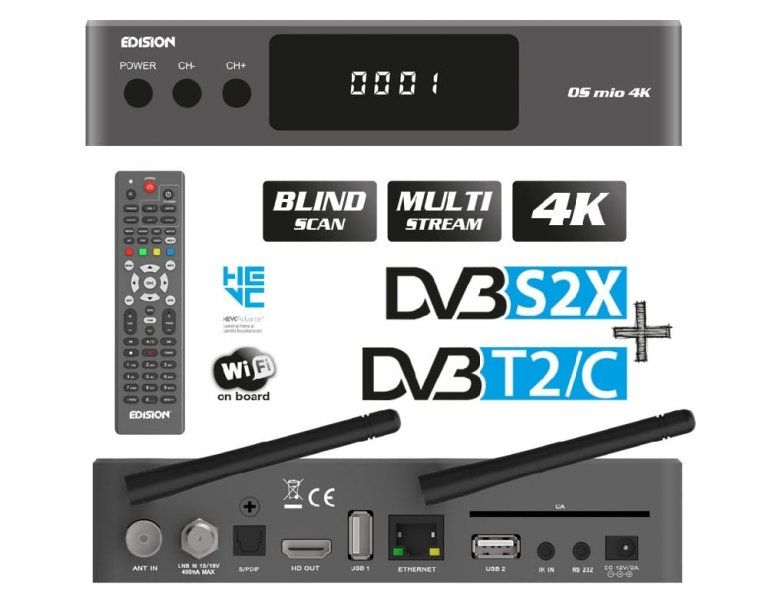 New Product-
Edision - OS Mio 4K DVBSx STB
$175
Fast & Free USPS Priority shipping from our US warehouse to US/VI/PR!
Estimated in stock before December 25th.
- - - - - - -
EDISION OS MIO 4K S2X + T2/C Grey, is the new E2 LINUX 4? UHD, DVB-S2X combo receiver in the E2 LINUX range of EDISION receivers. It features 4K UHD resolution and has Multi Stream T2MI Tuner & Blindscan. Equipped with a variety of the most advanced features in order to provide you with an exciting use of all its top characteristics, all in a compact and slim design!
Features include: E2 (Enigma 2) Linux operational system, DVB-S2X and DVB-T2/C ?uners, 4K UHD resolution, Multi Stream T2MI Tuner, Blindscan, Web browser and HbbTV support, Dual Core ARM at 1.5 GHz processor, 8GB eMMC/RAM 2GB DDR4 2400Mhz flash memory, WiFi with two (2) external, detachable wifi antennas (included), Bluetooth on Board, 4K UHD Multimedia Player plus the exceptional and ergonomical aluminum IR remote control UNIVERSAL 2-in-1. All these combined with the overall EDISION quality and professional support, make it a superior option for you to enjoy!
Technical features:
- Type: 4K UHD E2 Linux Combo Reivever DVB-S2X + DVB-T2/C with Multi Stream Support
- 1 x Tuner DVB-S2X
- 1 x Tuner DVB-T2/C
- Decoding: H.265/HEVC decoding support (covered by patents listed at
patentlist.hevcadvance.com
)
- Multi Stream T2MI & Blind Scan support
- Linux operational system
- Processor: Dual Core ARM 1.5 GHz
- FLASH 8GB eMMC/RAM 2GB DDR4 2400Mhz
- 4K UHD Multimedia Player
- Web Browser & HbbTV support
- Free Internet Streaming TV and Radio
- Dual Band 2x2 Wi-Fi 802.11ac 5G/2.4G with MU-MIMO
- 2 x Pluggable Wi-Fi Antennas
- Bluetooth: embedded 2.1/3.0/4.0
- Unlimited channel memory
- Hyper-sensitive tuner for weak-signals
- 1 x Smartcard reader
- 10/100 Mbps Ethernet interface
- 2 x USB2.0 ports
- 1 x HDMI 2.0a Connection
- 1 x jack to RS232
- 1 x jack to IR
- 1 x S/PDIF
- Channel switch in less than 1 second
- Extensive ?PG and programmed viewing via EPG
- Expandable Add-Ons & Plug-Ins
- Supports Bouquet list
- Multilingual OSD, Skin - support
- Channel search: Fully automatic/Manual
- Time Shift function and Multi Timers
- Supports Teletext & and OSD and VBI subtitles
- Compatible with DiSEqC 1.0, 1,1 ,1.2 and 1.3 (USALS)
- Supports SCR / CSS (EN50494 & EN50607)
- Power consumption less than 0.5 Watt, in low-power stand-by mode
Front Panel:
- Display: LED (Standby, Recording)
- Display Buttons: Power, Channel -/+
Back Panel:
- Input Sat-IF: 1x F-type
- Input RF: 1x IEC-type
- Connection TV: 1x HDMI
- Video output: 1x HDMI
- Audio output: Standard optical (S/PDIF)
- 2 x WiFi Antennas
- 1 x Smartcard slot
- 1 x Ethernet plug
- 1 x jack to RS232
- 1 x jack to IR
- 1 x DC in (for the external PSU)
Package contains:
- Universal Remote Control 2in1
- External PSU 12v with NA plug adapter
- Jack to IR cable
- USB extension cable
- 2 x Wi-Fi Antennas
- 2 x "???" batteries
- Start Guide EN/DE/GR
General:
- Case: Aluminum
- Dimensions: (W x H x D): 180x40x140 (mm)
- Weight: 0,7 kg
- Color: Grey
- Warranty: 2 years